Featured
AutoMaXX
With its large, colored operating buttons, swivel connections, silicone line and maintenance-friendly design, this lung-governed demand valve set milestones for fire fighting around the world. Features automatic first-breath activation (depending on model), as well as automatic deactivation on separation from mask (depending on model). Available in both normal and positive pressure versions.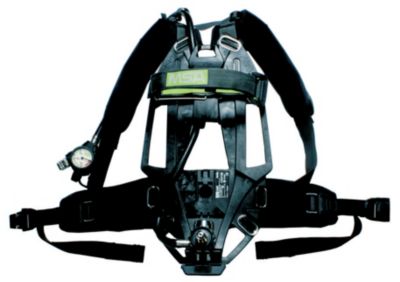 AirGo SCBA
This high-quality preset provides comfortable, outstanding respiratory protection. Ruggedly reliable and flexible, it's a popular choice for a wide range of maintenance or rescue operations, including firefighting. Designed to reduce stress and fatigue.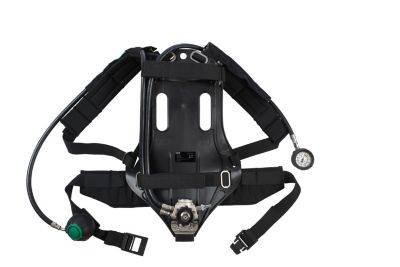 AirXpress One
The MSA AirXpress One is a simplistic, reliable and economical SCBA that meets the EN 137, Type I requirements for the industry and OGP market and a variety of related applications. The AirXpress One is rugged and reliable with customizable configurations depending on your needs. This Self-Contained Breathing Apparatus boasts a new, modern design and the easy-to-maintain construction provides low cost of ownership. The new AX demand valve provides an adjustable flow rate and an optional manual bypass function. Zippers on shoulder harnesses allow for switching of pressure gauge and demand valve from one side to another. All the added features of the AirXpress One are ideal for extreme working conditions (heavy breathing environments) and increased overall user safety.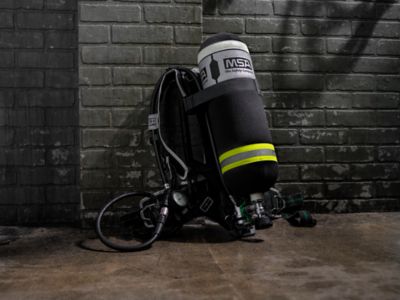 Composite Cylinder
MSA composite compressed air cylinders meet a wide range of applications, needs, and budgets. Composite cylinders with  aluminium liner, over wrapped with carbon and glass fibres, are 50% lighter than the traditional economic steel construction.
HP Compressors
Designed to quickly charge 300  and/or 200 bar cylinders, MSA high pressure breathing air compressors work seamlessly as part of an air purification system that meets the highest, most stringent standards. Low operating speed for continuous, reliable operation. All moving parts are electronically balanced to run smoothly. A variety of horizontal, vertical portable and mobile models with charging capacity from 100 up till 570 liters per minute (larger models on request) are available. The compressors can be supplied with electric, gasoline or diesel engines. Vertical models from 230 up to 570 are available also with highly efficient noise suppressing cabinet for indoor application. Great variety of options and accessories are available. * Humidity control * Electronic Computer Control * Oil pressure control * Temperature control * Filling panels
PremAire® Cadet Escape Respirator
This combination supplied-air respirator with SCBA is designed especially for escape. Versatile, comfortable and affordable, it features a single-assembly first-stage regulator and cylinder valve. Small in size and profile, this one is ideal for working in tight places.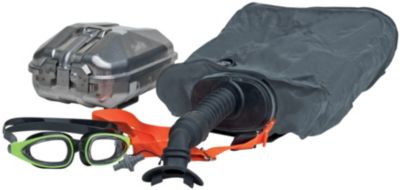 SavOx
This chest-worn protective escape device provides oxygen on demand wherever toxic gases, particles or oxygen deficiency can be imminently present. Ready-to-use, it's small in size and low in weight, making it easy to don, use and carry. Features a double heat-exchanger system to reduce inhalation air temperature to a comfortable level. The TR device allows quick and economic training of donning and use by simulating the weight and properties of real units
SSR 30/100
This small, robust KO2 respiratory device delivers safe and immediate oxygen on demand for escape or rescue. Packed airtight in a stainless steel container, this lightweight device is designed to be worn on a belt for easy opening and use. Dons in seconds. The TR device allows quick and economic training of donning and use by simulating the weight and properties of real units
SSR 90 (K 60)
This chemical oxygen apparatus provides oxygen on demand during gas outbursts, fires and after explosions. Designed especially for self-rescue, the unit is housed in a robust stainless steel case and can be carried along or kept on site. Provides 60 minutes of rescue oxygen and up to 5 hours while awaiting rescue. The TR device allows quick and economic training of donning and use by simulating the weight and properties of real units